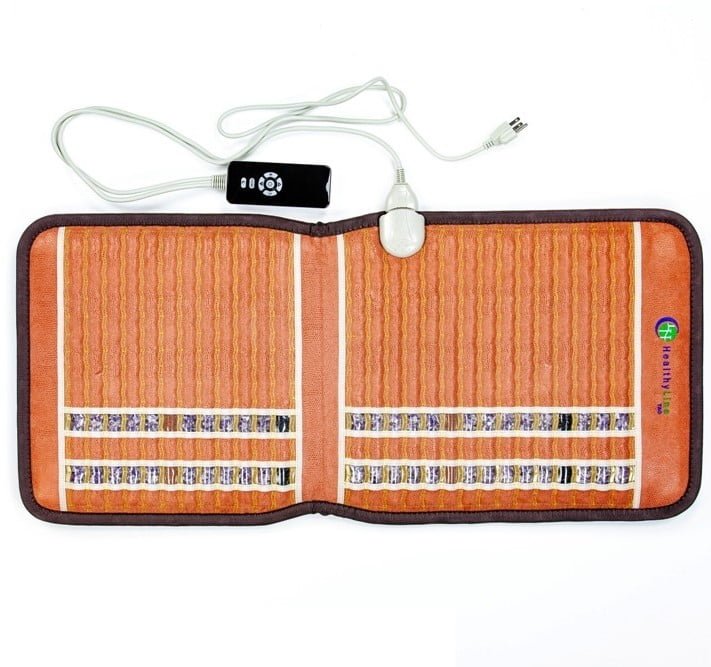 Tourmalin-Amethyst-Obsidian-TAO-Chair-4018-Firm-PEMF-Inframat-2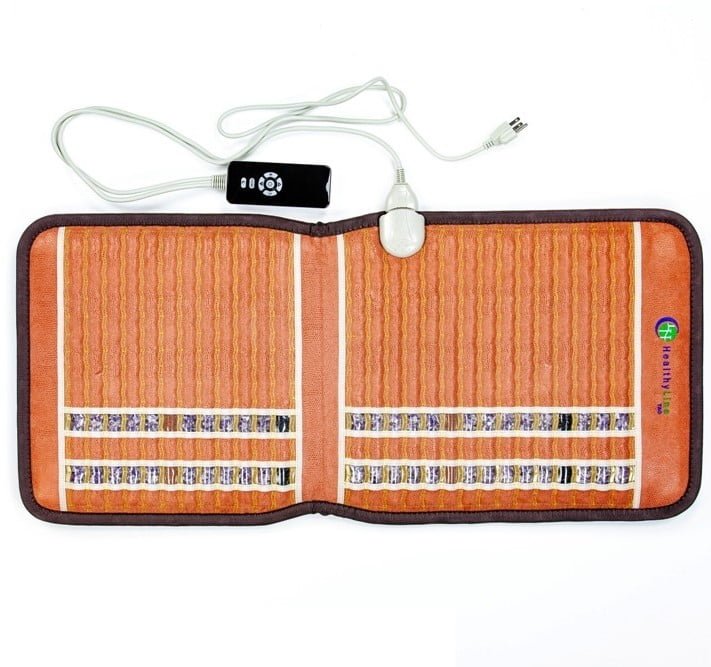 List Price: $549
Your Price: $494.10
*** discount code lp10s ***
No-risk 90-day trial
And free shipping!
10% Discount
This is my favorite PEMF mat
I liked this one some much that I bought one for my wife and me and one for each of my kids.
Great for Pain Management and Stress
This is an excellent PEMF therapy mat that is a good long-term solution for pain management. According to Dr. Pawluk, a leading expert in the field of pulsed electromagnetic field therapy, PEMF therapy also:
Reduces inflammation
Reduces the effects of stress on the body
Enhances platelet adhesion
Increases energy
Promotes better circulation
Improves blood and tissue oxygenation
Promotes better sleep
Improves blood pressure
Helps cholesterol levels
Increases the uptake of nutrients
Boosts cellular detoxification
Enhances the ability to regenerate cells
Balances the immune system and stimulates RNA and DNA
Accelerates repair of bone and soft tissue
Relaxes muscles
To read more info on Dr. Pawluk's research on PEMF Therapy here.
Here is the reason I like is PEMF Mat:
1. Easy to use – *** Most Importantly ***
Another reason I really like this PEMF therapy mat is that it is easy to use while working or relaxing. I think it is important to choose something you will use daily.
If you are like me, I have owned fitness equipment that I used quite a bit when I first got it, but then, after a while, when life got busy, I ended up not using it. But, this PEMF device, can be used while watching TV, working at a desk, or reading a book.
I use it in the evening just before bed while watching TV. It is not an inconvenience; it is a treat.
Use it when:
You are working from home
Sitting watching TV
Reading a book
Sitting at your desk
Lying on floor
Lying in bed resting or sleeping for the night
And with an adapter, you can use it while driving your car or truck.
You will not have to find time to use this device, use it while you are doing other activities. And then it won't end up like that fitness equipment that just doesn't get used because you have problems finding the time.
2. Has the Best Warranty
Of all the mats on the market, I have not found another that has a better optional warranty. And to me, this means a lot. They have a lot of confidence that their device is solid.
3. The Price is the Best
My wife says I am cheap. That is not true. When I spend my hard-earned money I want to make sure I get the best value for my money. I don't want to overpay. Well, maybe I am cheap. No matter what, it is about 1/6 the price of a Bemer mat.
4. It is a Powerful Mat
When compared to most other mats on the market, this mat has one of the highest intensities. Almost 3 times the power of the "top of the line" Bemer.
5. More than a PEMF device – It is Also a Heating Pad
But, not only is this a PEMF therapy mat, but it is also a heating pad, so, you feel almost instant relief from back pain. If the mat had only pulse therapy, you probably wouldn't feel much differently after sitting on it for an hour, it is more of an accumulative effect. Not so with this mat, you notice the effects right away. Heat therapy:
Relaxes muscles
Soothes pain
Relaxes sore joints caused by arthritis
Stimulates blood flow to promote pain relief
Increases tissue elasticity
Reduces resting muscle tension
Relaxes nasty, painful knots
Soothes of any pain-irritated nerve endings
Promotes a speedier healing rate by stimulating your natural metabolic rate
Read an article on the benefits of a heating pad
6. It Also Has Far Infrared Technology
Far Infrared technology:
Increases flexibility
Relieves discomfort
Boosts circulation
Relieves stress and fatigue
Enhances circulation in the skin
Modulates sleep
Eases pain
Protects against oxidative stress
Relieves inflammation
Read this article by Stephen Laifer on the benefits of Far Infrared Therapy
7. It has Negative Ion Capabilities
Negative Ions:
Increase levels of the mood chemical serotonin
Reduce symptoms of depression
Relieve stress
Boost our daytime energy
Promote antimicrobial activity
Help regulate sleep patterns and mood
Boost immune system function
Increase metabolism of carbs and fats
Kill or inhibit the growth of harmful bacteria, viruses, and mold species
Read an article on the benefits of negative ion therapy
8. It also has Gem Stones
This mat has 6 pounds of precious gems. The kind that is used in fancy spas. It has Amethyst which reduces stress, and irritability and balances mood swings, and anxiety. And it has Obsidian which is said to radiate positive energy. Tourmaline is also in this mat and is said to absorb negative energy. I am not sure I understand this but these gems have been used for thousands of years for healing purposes and are still found today in high-end spas.
This is the PEMF therapy mat that I purchased to help treat my back pain and I could not be happier. I am sure you will see the benefit of using this mat too.
Specifications for TAO PEMF Chair 4018
Size: 40″ x 18″ x 1.2″ (100 cm x 50 cm x 3 cm)
Weight: 9 lbs. (4 kg); comes with a carrying case
Exterior: Synthetic leather, durable, and easy to clean. Embedded jade, amethyst, tourmaline, and obsidian gemstones. These gemstones release far infrared rays and negative ions.
Controller: LED with time and temperature settings, automatic timer for 20 minutes off cycle
EMF Protection: Advanced filtration system and extra EMF-blocking layers
PEMF (Pulsed Electromagnetic Field) Therapy: Schumann Primary Resonant Frequency of 7.83 Hz, 3000 milligauss intensity, Bi-phasic bursts of PEMF. These settings simulate the Earth's magnetic field, which is compatible with our biorhythms.
Far Infrared Heat Therapy: Yes
Temperature: Mat Surface temperature of up to maximum 55 degrees Celsius
FIR wavelengths: at least 5-14 um, deep penetrating
Negative Ions Therapy: Yes, the negative ions are emitted naturally from gemstones.
Negative Ion Level: 1500/cc + per minute
The number of layers: up to 21 functional layers.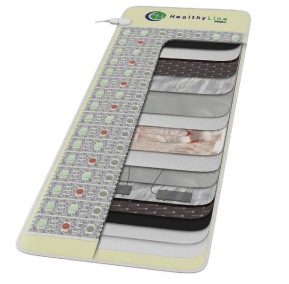 Thermal distribution layer for even heat and prevention of snake patterns.
Non-woven functional fabric for increased negative ion output.
Oxford waterproof fabric to reduce damage from perspiration.
Bamboo carbon fiber black cotton.
Copper net to shield from harmful EMFs.
Electric discharge patented layer.
Heating system: state-of-the-art silicon heating wire wrapped in EMF shield foil + bi-metal, and heat sensor.
Yellow mud increases FIR output.
A charcoal layer. Heat absorption release layer.
Oxford waterproof fabric to reduce water damage.
Thermal insulation to prevent heat from being conducted downwards.
Ecological compression cotton for comfort.
Waterproof eleusine cloth that prevents wear and protects mat.
Pulsed electromagnetic field system (PEMF)
Materials: High-quality, nontoxic
Crystal Therapy:
Amethyst: 5 lb of crushed crystals
Obsidian: 1 lb of crushed crystals
Tourmaline: 1 lb of crushed crystals
Voltage: 110-120V, 90W
EMF Protection: industry-leading double isolation wiring which blocks EMF and is placed between two layers of EMF-filtering copper mesh.
Manufacturer:
HealthyLine has worked to make over 500,000 customers happy. Since 2012, they have been extending their passion for wellness to the public. To show that they truly care for their customers, they offer a 365-day warranty. I have complete confidence that you will love their products.
All mats are carefully hand-made by highly qualified specialists. Then, every component is tested at different stages of manufacturing. Mats are tested for 35 points including zero EMF, heat level, heating time, weight, packaging, quality of gemstones, the number of layers, the level of negative ions, far-infrared, and several other measurement tests. PEMF and photon lights are tested too (on certain models). After being shipped from the factory to their warehouse, they may test a mat again before shipping it to customers. A box may appear to have been opened because they re-checked the product.
No Risk
You can have 90 days to try it and return it if you are not 100% satisfied!

No questions asked!

Be sure to enter discount code lp10s to get 10% off
Warranty:
Lifetime Trade-in:
HealthyLine offers the world's best lifetime trade-in policy on their PEMF therapy mats. Regardless of your mat's condition (even if it is not working) you can always send it to us as a trade-in for a new purchase and use half of its original price for the same model (or better). So, even if you damage your mat it will never become worthless. This is the best warranty offering I have seen on any PEMF therapy mat.
Lifetime Upgrade:
If you decide you want a superior mat, send in your current one. If your mat is in good condition (even if it is not working), you will receive a credit equal to its original value. This credit will be put towards your new purchase of one or more items if the purchase is at least twice the value of the mat you send back.
Model Number: TAO Chair 4018
Price: $549
But you don't have to pay that much. If you order by clicking the button below you will get 10% off, plus free shipping.
Your Price is $494.10
Lowest Price Anywhere!
*** When you enter discount code lp10s to get 10 percent discount ***
And free shipping!
No-risk 90-day trial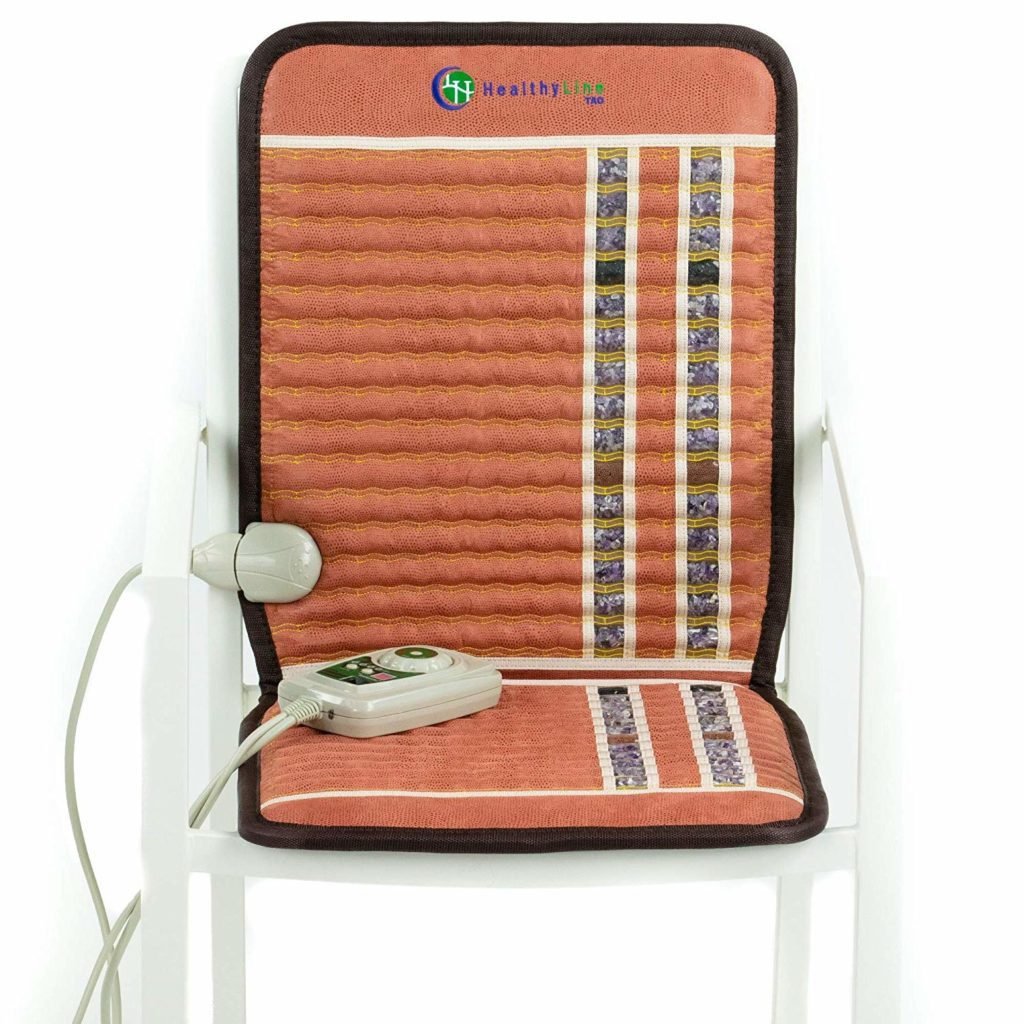 When you sit on this PEMF therapy mat, you will notice instantly that it is working to reduce your back pain and improve your overall health!
*** Save 10% when you enter discount code lp10s ***
Don't wait! You are covered by our 90-day price guarantee policy
There's no way I could ever go back to not having this mat. It has been too helpful and I have accomplished things I never thought possible for my health.
Robert 
(verified owner)
I am a medical doctor and I use this product personally and with my patients. I find that it provides a wealth of benefits that are often hard to obtain, and it does it easily. Can't recommend it enough for professional and personal use alike.
Paul McSwain, MD
(verified owner)
I put this right in my favorite recliner and use it while I watch TV every night. I didn't have to change anything about my normal routine.
Charles Merrill 
(verified owner)
If you don't want to spend a fortune and get all the infrared heat benefits, this mat is an excellent choice. I googled similar mats by other brands and almost gave up the idea of buying one, but then I found this mat. Also, I like that I can use it while working.
Neal A. Hairston (verified owner) 
(verified owner)
The best heating device I have ever seen
Norman A. Weber 
(verified owner)
I chose this mat variant and have no regrets. It's very comfortable in use, now I don't just uselessly sit on a chair:)
All claimed benefits are true, perfect health-boosting devices for those who don't have much time.
Carol T. 
(verified owner)
Still trying to find something I don't like about it…
Hans T. Deshields 
(verified owner)
This device has done more for my health than any pill ever has
Elliot T. 
(verified owner)
I bought an adapter so I can plug this into my car. I am an Uber driver and this product has been a lifesaver! Sitting in the car for long hours makes me so stiff and this mat helps me stay lose the whole time. I've been telling all my friends that are drivers to check them out.
Tomas 
(verified owner)
This mat has become my salvation for pain and tension in my back! And my mood is much better since I'm not suffering from my back anymore.
Donna Wenger 
(verified owner)
This mat is totally worth its price! It really works wonders for my back, long sitting at the desk isn't torture for me anymore!
Jorge F. 
(verified owner)
*** Save 10% when you enter discount code lp10s ***