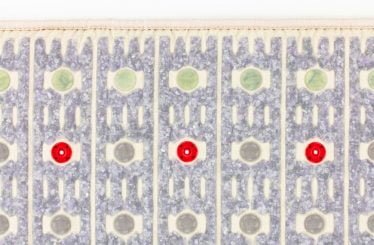 Tourmaline-Amethyst-Jade-Mat-Full-TAJ7224-Firm-Photon-Light-PEMF-InframatPro-10-1
Tourmaline-Amethyst-Jade-Mat-Full-TAJ7224-Firm-Photon-Light-PEMF-InframatPro-10-1
Tourmaline-Amethyst-Jade-Mat-Full-TAJ7224-Firm-Photon-Light-PEMF-InframatPro-15-374×245
Tourmaline-Amethyst-Jade-Mat-Full-TAJ7224-Firm-Photon-Light-PEMF-InframatPro-6-374×245
Tourmaline-Amethyst-Jade-Mat-Full-TAJ7224-Firm-Photon-Light-PEMF-InframatPro-36-374×245
Tourmaline-Amethyst-Jade-Mat-Full-TAJ7224-Firm-Photon-Light-PEMF-InframatPro-8
Tourmaline-Amethyst-Jade-Mat-Full-TAJ7224-Firm-Photon-Light-PEMF-InframatPro-2-e1537903979967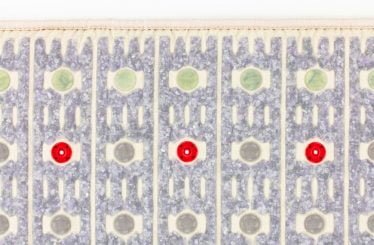 If you are looking for a PEMF therapy mat, this is one that you need to pay attention to. It is manufactured by HealthyLine, one of the best manufacturers in my opinion. It is the perfect-sized mat to treat your whole body. It is not only a PEMF mat, it actually has 5 therapies built into this unit.
Hot Stone Therapy
Far Infrared Therapy
Negative Ion Therapy
Photon Light Therapy
Many of the popular mats such as Bemer, iMRS, Medithera, BioBalance, and Ereada all only have one therapy built into the mat. With this mat, you will notice the difference the 1st time you use this mat. Immediate results. This is one of the best full-size mats for the money.
There is really no comparison between this mat and a Bemer., iMRS, and Medithera. This mat is more powerful, more comfortable, and has 4 more therapies to treat your body quickly.
This mat is the 2nd mat I recommend, but my top recommendation is the same manufacturer but a different style I think is more useable. In fact, I like that one so much I bought one for each member of our family. You can see that mat here. My recommended PEMF mat.
If you want to see my review for the manufacturer, HealthyLine, click here. And don't forget to enter the promo code lp10s to save 10%.
List price $1049
Your price $944.10
** when you use lp10s code ***
No risk 45-day trial
And free shipping
Size: 72″ x 24″ x 1.2″ (180 cm x 60 cm x 3 cm)
Weight: 22 lbs (10 kg)
Controller: LED with time and temperature settings, automatic timer for 20 minutes off cycle
EMF Protection: Advanced filtration system and extra EMF-blocking layers
PEMF (Pulsed Electromagnetic Field) Therapy: Schumann Primary Resonant Frequency of 7.83 Hz, 3000 milligauss intensity, Bi-phasic bursts of PEMF. These settings simulate the Earth's magnetic field, which is compatible with our biorhythms.
Photon light therapy:
• Uses visible red lights at a wavelength of 660 nanometers
• Penetrates just below the surface of your skin
• Benefits are obtained when photon lights are applied through thin clothes or covers. For maximum effectiveness, lights should contact directly with the skin
• Beneficial for managing energy levels
• Assists directly with the mitochondria, the part of the body that makes proteins and collagen
• New cells destroy old cells, helping with detoxification and wellness
Far Infrared Heat Therapy: Yes
Temperature: Mat Surface temperature of up to a maximum 55 degrees Celsius
FIR wavelengths: at least 5-14 um, deep penetrating
Negative Ions Therapy: Yes, the negative ions are emitted naturally from gemstones.
Negative Ion Level: 1500/cc + per minute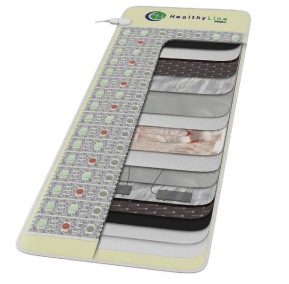 Number of layers: up to 21 functional layers.
Thermal distribution layer for even heat and prevention of snake patterns.
Non-woven functional fabric for increased negative ion output.
Oxford waterproof fabric to reduce damage from perspiration.
Bamboo carbon fiber black cotton.
Copper net to shield from harmful EMFs.
Electric discharge patented layer.
Heating system: state-of-the-art silicon heating wire wrapped in EMF shield foil + bi-metal, and heat sensor.
Yellow mud that increases FIR output.
Charcoal layer. Heat absorption release layer.
Oxford waterproof fabric to reduce water damage.
Thermal insulation to prevent heat from being conducted downwards.
Ecological compression cotton for comfort.
Waterproof eleusine cloth that prevents wear and protects mat.
Pulsed electromagnetic field system (PEMF)
Voltage: 110-120V, 90W
EMF Protection: industry-leading double isolation wiring which blocks EMF and places it between two layers of EMF-filtering copper mesh.
Manufacturer:
HealthyLine has worked to make over 500,000 customers happy. Since 2012, they have been extending their passion for wellness to the public. To show that they truly care for their customers, they offer a 365-day warranty. I have complete confidence that you will love their products.
All mats are carefully hand-made by highly qualified specialists. Then, every component is tested at different stages of manufacturing. Mats are tested for 35 points including zero EMF, heat level, heating time, weight, packaging, quality of gemstones, the number of layers, the level of negative ions, far-infrared, and several other measurement tests. PEMF is tested too. After being shipped from the factory to their warehouse, they may test a mat again before shipping to customers. A box may appear to have been opened because they re-checked the product,
Warranty:
45-day trial satisfaction guarantee: You can return it for any reason (in the same new condition) and get 100% money back; you only pay the shipping cost.
1-year full warranty
5-year extended warranty included for controller
Lifetime Trade-in:
HealthyLine offers the world's best lifetime trade-in policy on your PEMF therapy mat. Regardless of your mat's condition, you can always send it to them as a trade-in for a new purchase and use half of its original price for the same model (or better). So, even if you damage your mat, it will never become worthless.
Lifetime Upgrade:
If you decide you want a superior PEMF therapy mat, send in your current one. As long as your mat is in good condition, you will receive a credit equal to its original value. This credit will be put towards your new purchase of one or more items if the purchase is at least twice the value of the mat you send back.
Model Number: TAO Mat Full 7224
List Price: $999
But you don't have to pay that much. If you order by clicking the button below and enter this code lp10s you will get 10% off, plus free shipping.
Your Price is $944.10
Lowest Price Anywhere on this PEMF Therapy Mat!
No risk 45-day trial
And free shipping!
Don't forget "lp10s" code to save 10%
Hear are what a few of the many satisfied users say about this PEMF Therapy Mat
I can't say enough about the TAJ Mat Full 7224 Firm – Photon PEMF InfraMat Pro® – 110V.
I was experiencing debilitating neck pain and was told surgery was the most likely way to have the pain reduced. I did not trust that solution. With surgery, anything can go wrong, so I looked for alternative solutions. Long story short, while researching online, I came upon HealthyLine and decided to invest in the TAJ Mat. A week after using the mat for an hour each day, my neck pain subsided. Today, I am no longer experiencing severe pain which prevented me from exercising, sleeping on my right side and so many other things. Now I can do everything I used to do before my neck started hurting.
Debilitating chronic pain is like a prison sentence because it restricts you in all ways. It's something that is always there, minimizing the quality of life. The TAJ mat is a true lifesaver. In addition to pain reduction, lying on the mat puts me into a deep state of relaxation. With so many healing modalities integrated into the mat, I am probably receiving more health benefits than I am even aware of.
Francesca 
(verified owner)
The TAJ Full mat is amazing! The pictures don't show the truly amazing quality of this mat is. On top of the great quality, it actually works! I have had a decrease in my pain, an increase in energy, less brain fog, and better sleep quality.
My autistic daughter has seen better sleep quality, improved mood, and decreased anxiety!
All in just a few weeks. So impressed! Thank you HealthyLine for making such great products.
Tiffany Banks 
(verified owner)
I suffer from chronic muscle spasms in my legs and back as a result of a childhood accident. They have been a big part of my life for a long time now and this product is the first thing that has given me real relief. It keeps my muscles loose which has resulted in much fewer occurrences of spasms. I am very happy with my mat.
Robert  
(verified owner)
I really am blessed to have found this mat. My chronic arthritis has been the bane of my existence for far too long. Some days the pain is so intense I don't want to even move. Other days it's just a bother. Ever since getting this mat the severe days are a thing of the past. My arthritis is definitely still there, but it's no longer at the forefront of my life the way it used to be. It's not the only thing I think about now. This mat has given me back a part of my life I never thought it would be possible to have again.
Alicia B. 
(verified owner)
Thanks to this mat I have been able to scale back on the number of medications needed to balance all of my health issues. This has been extremely beneficial for limiting the negative effects that sometimes arise with prescription medications. Having more control over my health and wellness routine really changes the way I approach my lifestyle. What a help this mat has been overall.
Tom Linson 
(verified owner)
I had my doubts, but just like my pain…they were completely gone after a few months.
Thomas Rey 
(verified owner)
Join The Over 500,000 Happy Owners
Don't forget "lp10s" code to save 10%