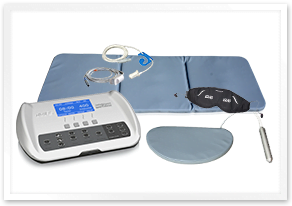 iMRS 2000 Review:
The iMRS 2000 is one of the most popular PEMF machines for sale today. Compared to other PEMF mats reviewed, it seems very high priced and is what I would call a low-powered unit. I think there are much better choices on the market. The one I recommend is this PEMF chair mat.
Swiss Bionic Solutions Corporate Information
The iMRS 2000 PEMF mats are manufactured in Germany. The family-owned company, Swiss Bionic Solutions, was formed in 1996. It is managed by Wolfgang Jaksch. The corporate headquarters is in Switzerland. And has offices in Canada, the US, and Asia. You will notice they don't share much information on their company on their website. But, they did imply that they have 500,000 installed units in the field.
iMRS 2000 Sales Model
Swiss Bionic Solutions uses a Multi-level Marketing (MLM) sales model much the same as Bemer. You cannot purchase a mat from Swiss Bionics directly. Therefore, you must purchase from an iMRS Lifestyle Consultant. But, I did find a couple of used mats for sale on eBay. I recommend shying away from this product because I think the MLM sales model causes the price to be too high. In fact, a Healthyline is much less than half the price.
There a few websites associated with iMRS products. www.swissbionic.com – is the corporate website
www.imrs.com is also another corporate website
And then there is www.iMRS2000.com and www.imrshealth.com– these appear to be a distributor or Lifestyle Consultants.
This makes it confusing for someone looking to buy an iMRS device.
iMRS 2000 Marketing Message
Much of their marketing is filled with messages about improving quality of life. In addition, they include improving mental focus, rapid recovery from injury, improve mobility, improve circulation and, immune system function. In addition, much of their marketing is geared toward convincing people to become Lifestyle Consultants (MLM sales agent).
iMRS Recommended Therapy Time:
The user manual suggests using the device for just 8 minutes, twice a day. For example, for an acute injury or pain, they recommend 16-24 minutes. Medical research has shown that 20 minutes is the optimal amount of time to use a PEMF per day.
iMRS 2000 PEMF Intensity:
The unit operates between .09 and 70 Microtesla which is low compared to the Healthyline or BioBalance devices. They recommend that people start at level 25 in the morning and 10 in the evening. And gradually work up to 100. This is quite a bit lower than most of the units on the market. Much of the research on PEMF therapy have used 1-10 Gauss as their recommendation. This is an important factor because it determines how far the signal will penetrate into the body.
iMRS Models and Price
It is one of the higher-priced PEMF mats on the market. They have three models to choose from.
$3,250 IMRS Wellfit – Includes full body pad, pillow pad, controller, and SD card with up to 200 settings.
Complete – Includes full body pad, pillow pad, wand, controller, and SD card with up to 400 settings.
IMRS Complete – Includes full body pad, pillow pad, wand, controller, an SD card with up to 400 settings, a database with almost 3500 pre-programmed variations for all applicators and all organ clock options, and an adjustable timer for sessions lasting from 1 to 60 minutes.
Warranty and Trial Policy
3-year warranty, all sales final, no returns allowed
Conclusion
This PEMF machine is very high priced compared to some of the other devices. In addition, the PEMF intensity is low.